Displaymate.com
has a lengthy article which appears to look at iPads in great detail. It presents itself as a rigorous comparison which a large amount of work was put into. It gives the impression that they dealt with all the details, carefully, so you don't have to. And it presents factual information which you are intended to believe is true.
An example statement they make is,
we examine in-depth the LCD displays on the Apple iPad mini 4, the iPad Air 2, and iPad Pro based on objective Lab measurement data and criteria.
Lab measurements! They sure put a lot of work into getting everything right. Didn't they?
But people suck at dealing with details. They may well have tried hard, but they have presented false information as if it were a fact. Here's the relevant part of their fact chart: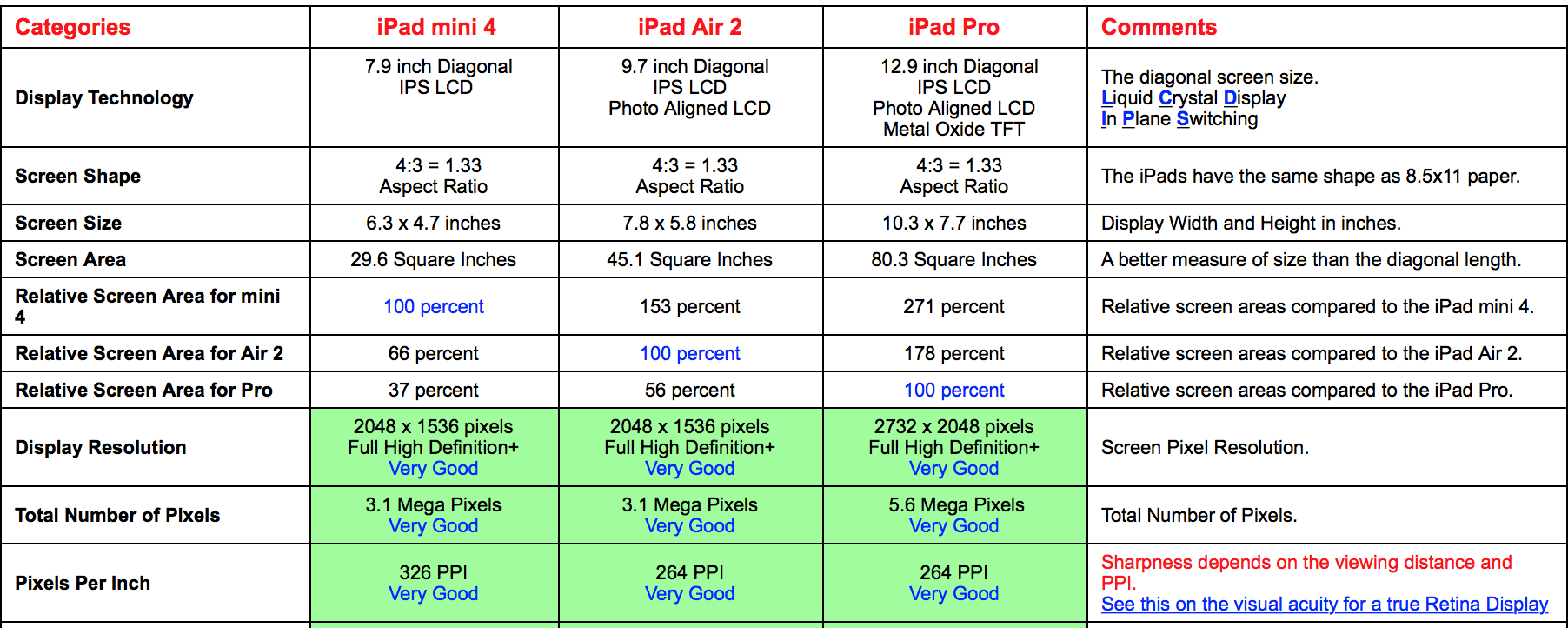 What caught my attention was the claim that iPad Air 2 is 7.8 inches tall while iPad Pro is 7.7 inches wide. I remembered Apple saying the Air's height and Pro's width matched during a presentation about new multitasking features. (As I remember it, Apple basically said you can fit a whole iPad Air on the pro screen and then have an area left over to the side for a second app.)
So I thought, huh, Apple fudged it. I thought they'd present an exact match here, but actually it's just pretty close.
But then I noticed the number of pixels does exactly match. The Air is 2048 pixels tall. The pro is 2048 pixels wide.
And the Pixels Per Inch exactly matches too at 264.
But if you have the same number of pixels, and the same number of pixels per inch, then the number of inches should also match. The chart contradicts itself.
So how many inches is it? Assuming the pixels and pixels per inch are correct then it's: 2048/264.0 = 7.757575 repeating.
So the actual value is between the 7.7 and 7.8 inches given, and a little closer to 7.8. Both numbers should have been rounded up to 7.8 inches since that's closer.
I wouldn't mind so much if both numbers were rounded the same direction, either way. But getting the same number in two adjacent boxes on your chart, and then rounding one up and the other down, is really not OK. This is a factual error caused by a methodology error. Whatever one's policy for rounding numbers, the same policy should be used for the entire article.
I emailed the article author and will update this post if it's fixed. The article did invite comment. As usual, I understand that mistakes can happen. We'll see if he's willing to fix it. Willingness to fix mistakes, or not, is even more important than making mistakes, or not, in the first place.