Super Mario Run is a fun new iOS game.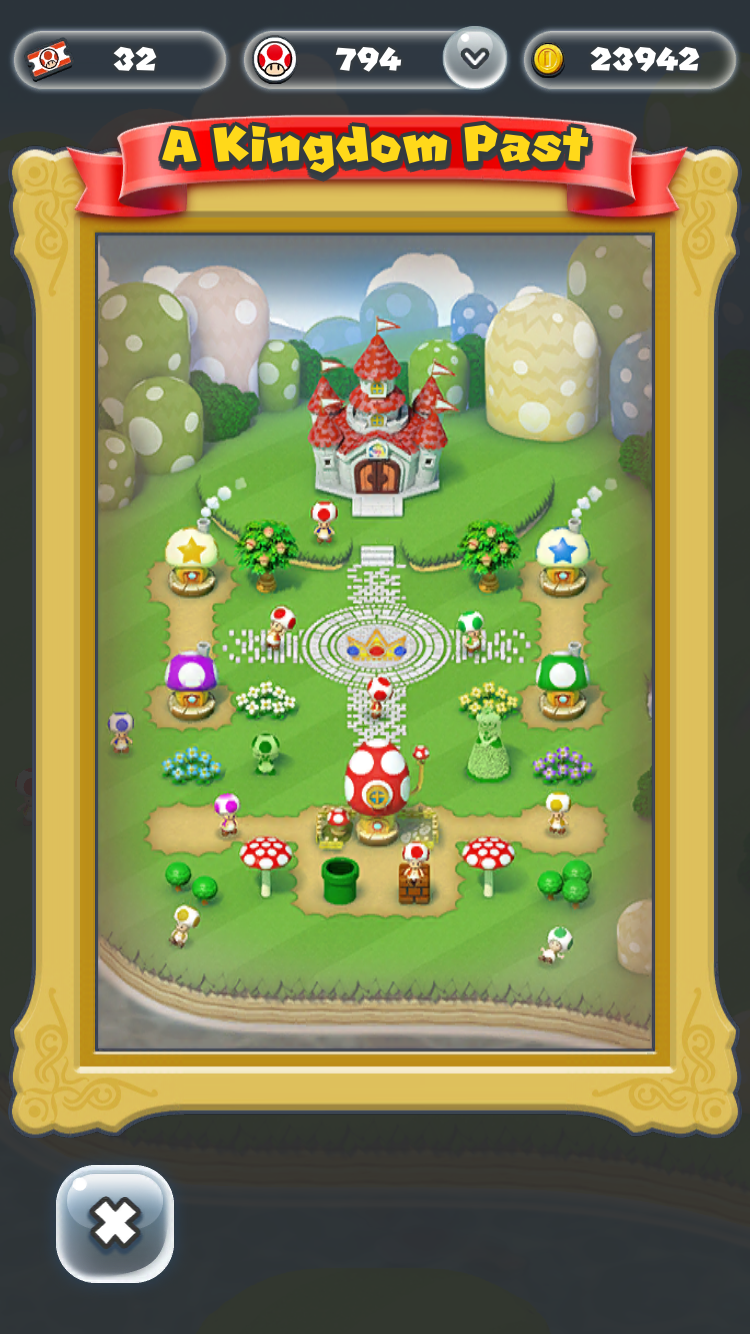 It has regular 2d Mario levels. It plays a lot like a regular Mario game, but you automatically run right and tap to jump. You can also spin (tap in air), wall jump (tap on an edge), jump different heights (hold tap jump for longer or shorter), and pull back while in the air (slide left during a jump). The controls are well done and the game is designed for them. This isn't a console game ported to bad iOS controls. Every level is designed to work well with the controls. And they added some stuff to work well with the controls, like pause blocks. On pause blocks, Mario stops moving until you tap, which lets you decide the timing for when to run past some obstacles, just like in a regular Mario game where you control movement.
The game has 24 levels but a lot of replay value. Replay levels to try to get all 5 pink coins in one play through. Then you get to play a second version of the level (a few things get moved around or added) with 5 purple coins. Get the purples to play the black coin version of the level.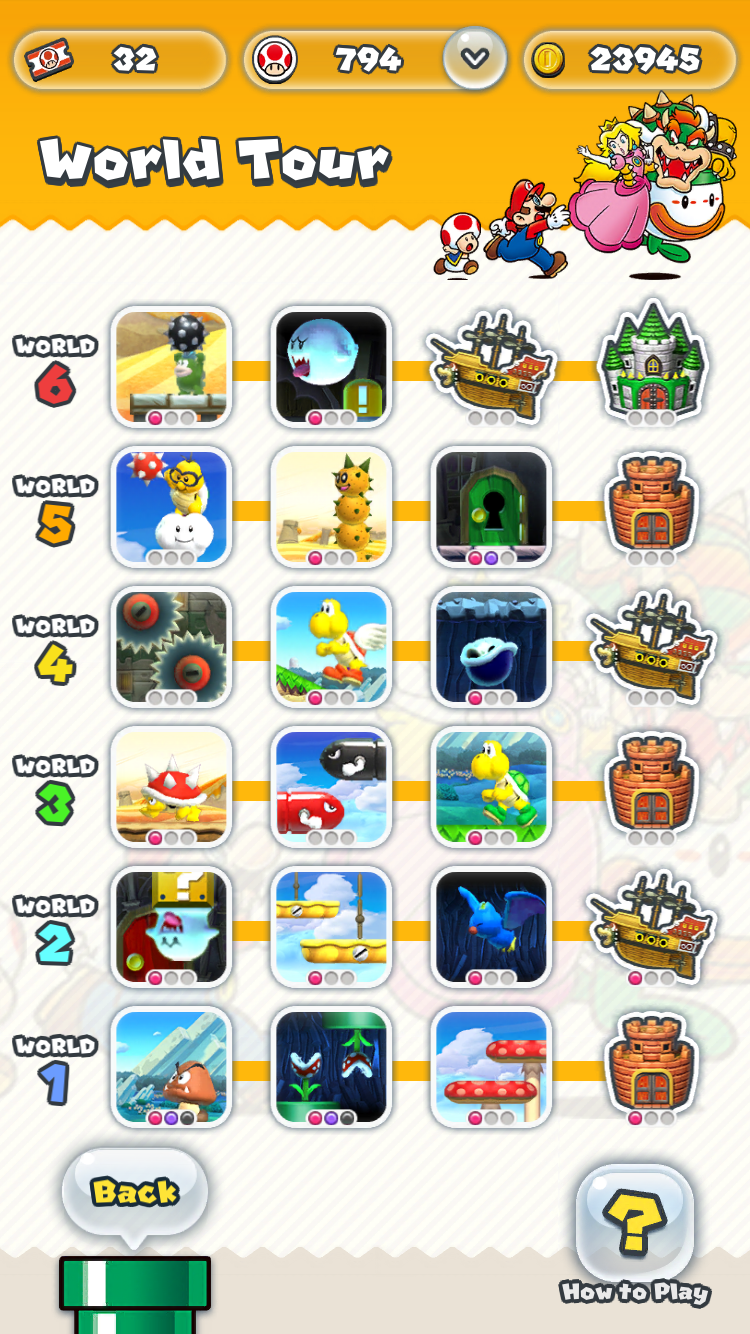 I beat all the levels on my first day. The base levels aren't very hard. I'm over half way through getting the pink coins now, and I've done a couple purple and black coins. The pink coins usually take a few play throughs to get. Most of them aren't super hard, but a few are. And so far it looks like the later coins get a lot harder. 😄
There are 5 extra characters to unlock. Luigi can jump extra high. Yoshi has his flutter jump. Peach can float down gradually. Toad and Toadette run faster than Mario. Peach, Yoshi and Toad can't use extra characters can't use mushrooms like Mario, they just die in one hit without the chance to be big and become small when being hit. So everyone has strengths and weaknesses. Switching characters can help get difficult coins. I've used Peach and Yoshi to get some high up coins with their jumping mechanisms. Toad is my main character now since he runs faster. I used Mario to get a coin that was right after an enemy who was really hard to dodge without missing the coin, since he can take a hit. Mario is good in the ghost house levels too since you most often get hit there.
The game also features Toad Rally. This lets you run levels with a short time limit to collect coins and get applause from the crowd. You play against a real run a human did recently. Win and gain toads, lose and lose a smaller number of toads. There are 5 colors of toads and they let you build up a kingdom. You can place buildings and decorations depending on how many toads you have. There are also special buildings. Playing Toad Rally requires a ticket to enter, and the tickets are in short supply. Buying buildings costs coins, but you end up with tons of extra coins, they basically don't matter.
Here are some tips on getting a big kingdom with lots of toads quickly, which also lets you unlock more characters: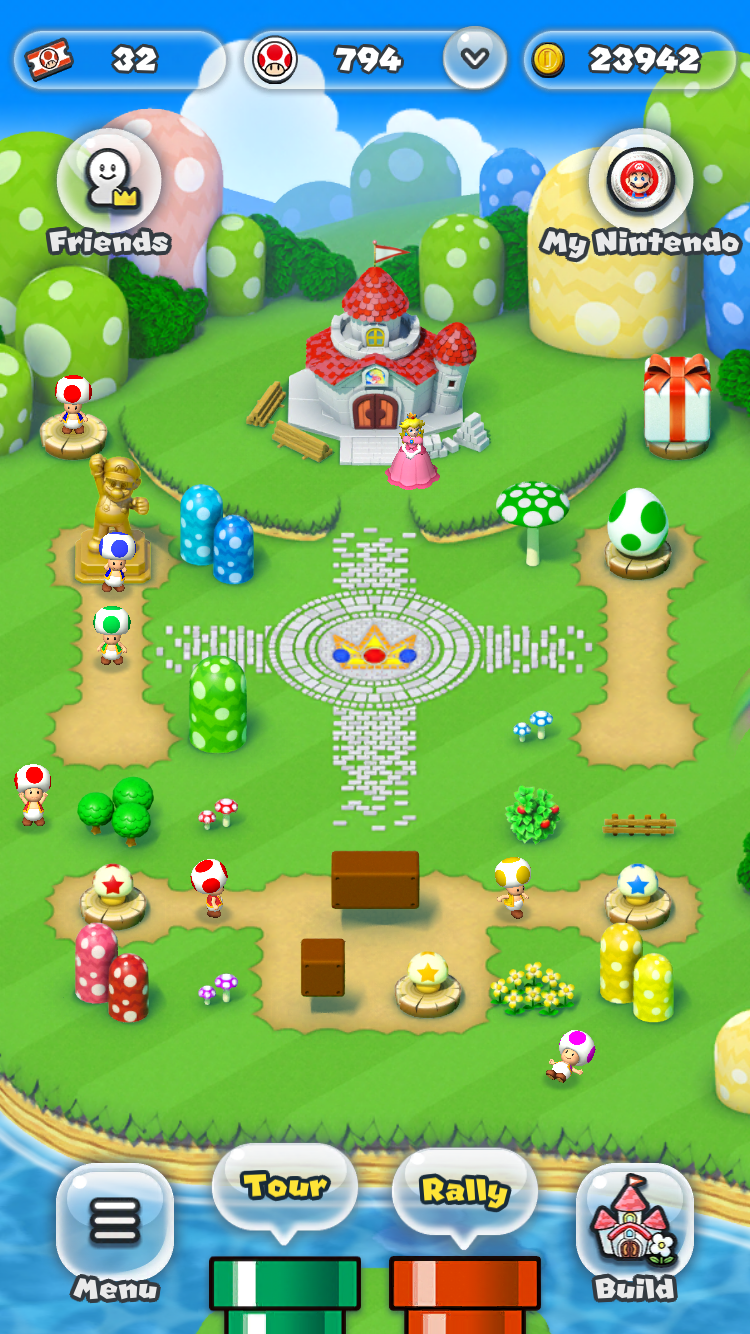 Beat all the regular levels before you play toad rally. You want to be a decent player so you can win the majority of the time.
You can rematch after you lose. Only do this if the opponent has a low score for the type of level and you feel very confident you'll win in one more try (you only lost because of multiple large mistakes). Don't rematch unless you think it's an easy win.
There are different types of levels. E.g. the sand levels for 3 red and 2 yellow toads. Cave levels for 3 red and 2 blue. Basic levels for 5 red. Ghost house levels for 3 red and 2 purple. Sky ships for 1 of each color.
Focus on one type of level at a time. And practice that type of level first, then play a bunch of rallies for it. E.g. replay all the ghost house levels several times each and work on gathering coins from them. Then play 3 red and 2 purple toad rallies which will be in ghost houses. The levels you play in the rallies aren't identical to the regular levels you can practice, but they're fairly similar and some parts are the same.
It's much easier to win a type of level you've practiced recently and then played a bunch of in a row. Only change types of levels when you reach a goal number of toads. You also occasionally don't get the right type of level from the 5 opponents you can choose. In that case, I'm not sure if waiting will change the opponents available or not. One way to continue is to play the red only levels because they're the easiest so they require less practice (just make sure you're Toad which will give you a significant advantage on those levels for a while until people catch on and also play Toad). And I did red only because losing red toads doesn't matter much, they're the easiest to get plenty of to meet the requirements for purchases (you'll get a bunch of reds while working on any other color). Alternatively, play the previous type of level you were working on which you still remember well.
In general, play the rallies as Toad. Going faster is a big advantage in most levels. Mario could be considered for ghost houses, and Peach or Yoshi could be considered for sky levels with a lot of jumping over empty space. Make sure to practice with a character a bunch on regular levels before using them in rally. They each take some getting used to, especially Yoshi. Playing only Toad in rallies is a reasonable strategy too. But dying is really punished and some other characters are safer on certain levels. (Mario can get hit by a ghost without dying if he gets a mushroom first, Peach and Yoshi can jump over pits more easily.) Also there's a cave level where coins appear in front of you in a line which you are meant to follow and get them as they appear. But Toad runs too fast, which is inconvenient. I think he needs to swipe left during jumps in order to stay with the coins better. I considered switching characters so the timings would work better, but Toad still seemed like the best on the other cave levels, and I didn't know which I'd get. So I plan to use the swipe left while jumping to slow down strategy next time I get the moving trail of coins.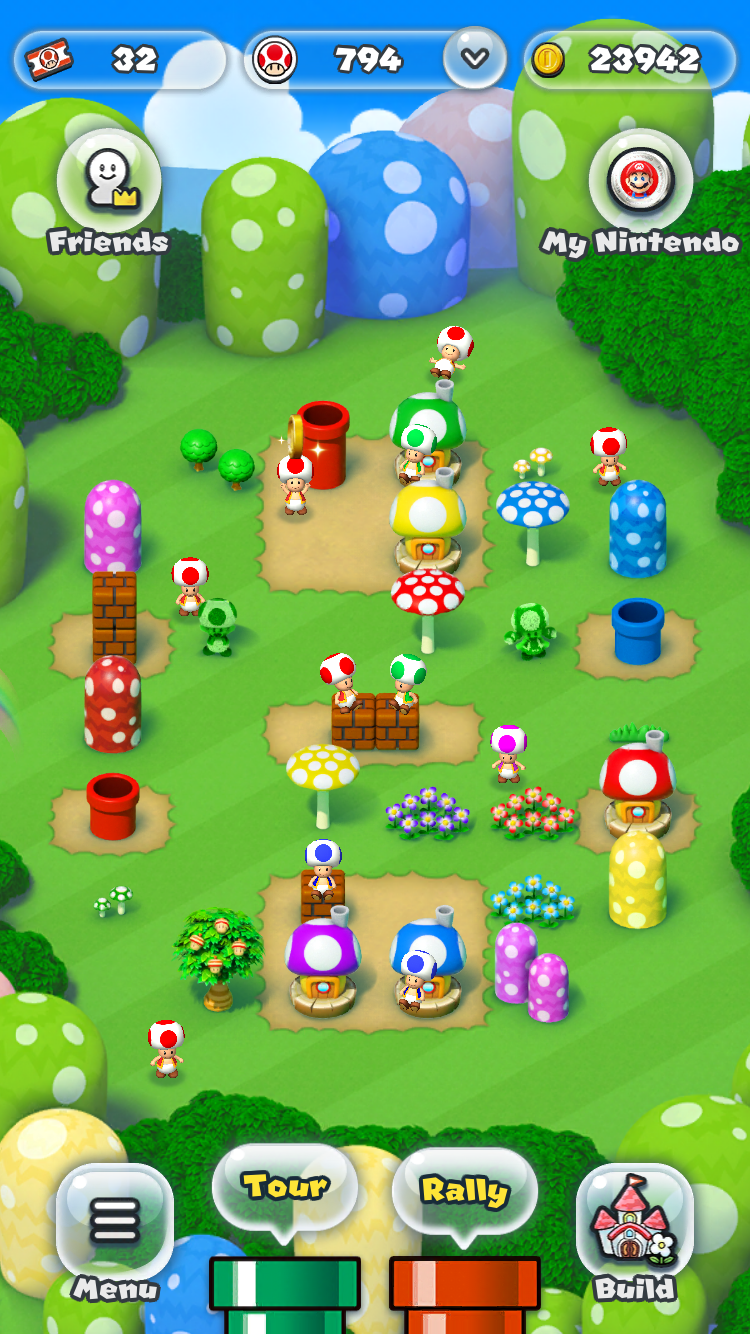 To get more toad rally tickets, you need to unlock special buildings. Aim for the Yellow Bonus House and the Long ? Block first. So far (I've only used them a couple times) looks like you can get around 5 rally tickets every 8 hours from those. The blue bonus house I got coins once and nothing twice, but it looks possible to get rally tickets (don't know how many). The red bonus house appears to be a 50% chance of one rally ticket, and the regular ? block just gives 100 coins. I don't have the mega ? block unlocked yet so I don't know what it gives.
You get the red bonus house and the regular ? block pretty much right away, I forget exactly how. The game basically gives them to you just for getting started.
Then definitely focus on the yellow bonus house and long block, just play the rallies needed for those only. You might have to get the first rainbow bridge before they show up, but only do that first if they aren't showing up. (Once you get something you can't see the requirements to unlock it anymore.)
Unlocking things in the right order is important. Think of bonus houses and ? blocks as offering recurring income. The sooner you get your income, the more stuff you'll get from it. Would you rather get paid $100/week starting today or starting next month? You want to unlock the best rally ticket income right away because you will run out if you play much and be limited by tickets.
To unlock Toad, make a Nintendo account (or link it if you already have one). Do this early on so you can start getting used to Toad and use him for rallies. (You probably want to do your first play through of the regular levels with Mario, being able to take an extra hit is really useful when you're new, you aren't in a huge hurry, and the levels are designed to work well for Mario.) You get Peach for beating every level. Yoshi, Luigi and Toadette require unlocking toads. Yoshi you can get pretty early, but the other two require a lot of toads.
Here's my stats so far after the first 2 days: