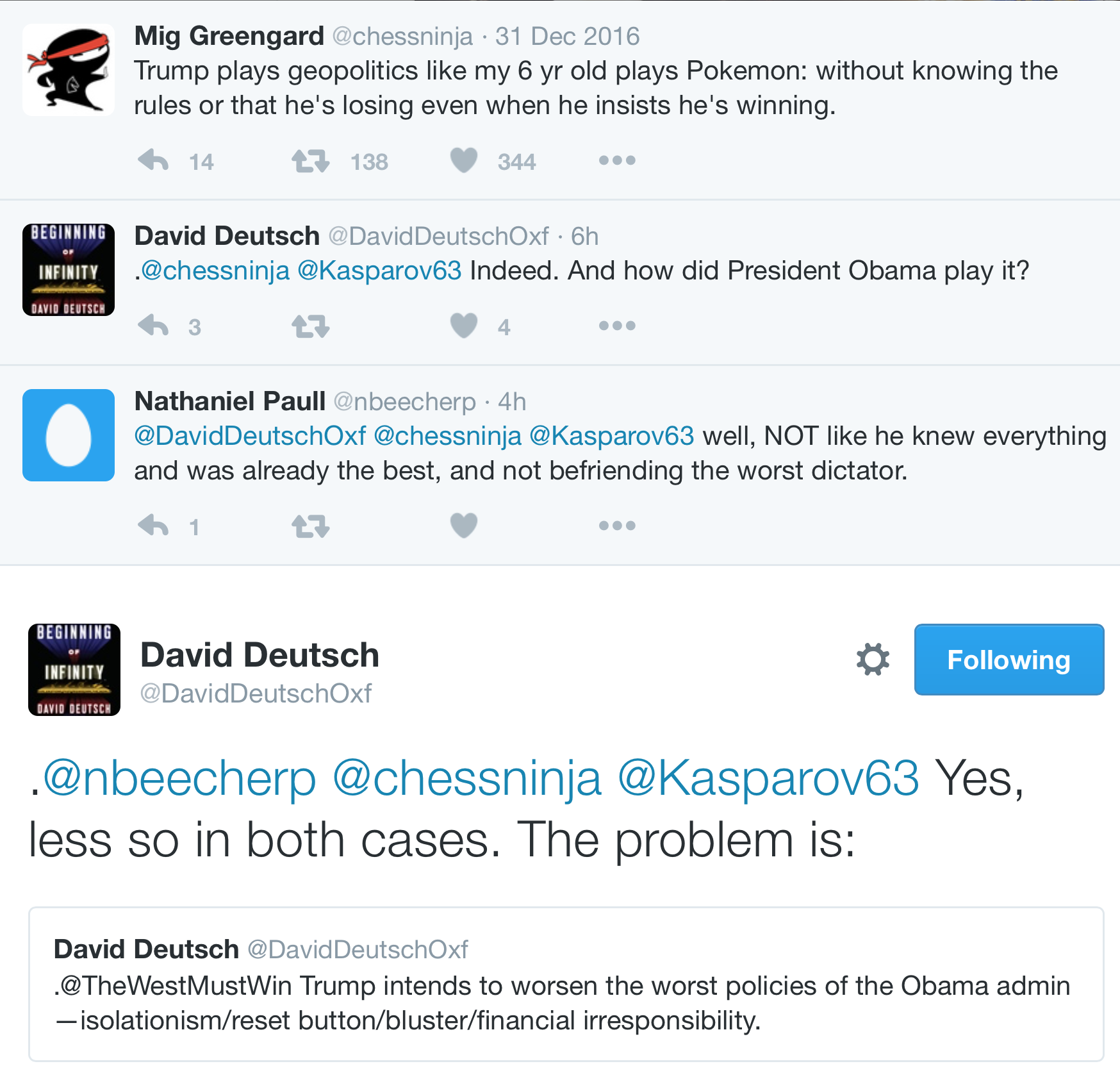 DD is bad now. There's so many things wrong here!
He said "indeed" to a tweet insulting children. Most people would do that, but in the past DD wouldn't have. He was good about ageism.
He said "indeed" to a tweet no one considers literally true.
He said "indeed" to an exaggerated, ageist, unserious, unintellectual claim that Trump is clueless and incompetent. (Also file that under unoriginal!)
He likes Obama more than Trump. (Previously we found out he likes Hillary more than Trump.)
He says "yes" that Putin is "the worst dictator" which is false.
DD says "yes" that Trump is "befriending" Putin. That's false. Trump is – as he should – having a working relationship with a person his job requires him to work with. Work relationships are different than friendships. Suggesting that Trump is personal friends with Putin is a lazy smear.
From Obama's worst policies, DD excludes: Obamacare, supporting Iran, supporting the Muslim Brotherhood, supporting Cuba, open borders, appointing activist leftist judges, and losing the Iraq war. That's just a small start on what Obama did wrong.
DD not only claims that Trump will pursue all Obama's worst policies, but that Trump is even worse at all of them than Obama. This is unfair to Trump by ignoring many terrible Obama policies where Trump is way better. And it's false because Trump is better on every listed policy than Obama. Trump is going to be more financially irresponsible than Obama? Really? I read Trump's tax plan, among other things, and I don't see it. I await DD's considered argument for this claim and the others. But DD doesn't explain serious arguments anymore, he tweets.
DD has become an apologist for Obama and the left. DD speaks imprecisely and participates in superficial commentary. DD no longer cares much about ageism.
I follow DD's tweets and this quality is typical. He used to be a much better thinker.
Update: Here's a second example of low quality DD tweets. From someone else it'd just be expected that they are confused about AI, persons, animals, etc, all of that. But DD used to be good at these things. And he used to be my peer. But these tweets aren't in my league or up to DD's former standards of thinking.